About The Artist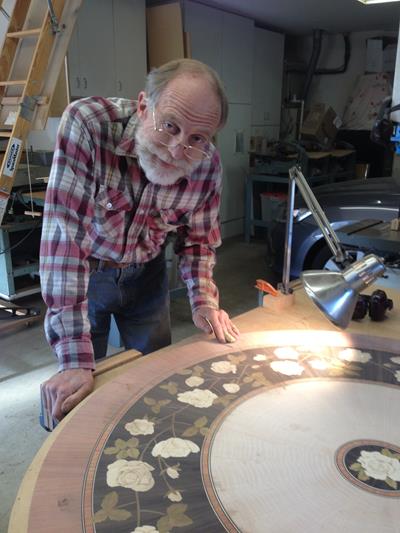 "Making things with my hands," says Ken, "has always been part of who I am." He recalls childhood memories of a box kite made from salvaged wooden orange crates and Christmas wrapping paper. Family vacations each summer placed him along a trout stream in the California Sierras where he whittled, carved, made willow whistles and fished using his own hand-tied trout flies. "Completing college and grad school did not necessarily launch me in to my life career."

After several unfulfilling jobs he found himself doing handyman work that evolved into residential remodeling. After 11 years he closed the remodeling business to open a custom cabinet shop from which he retired after 25+ years. The shop continues on under the ownership of his son Jeff. Ken has created many beautiful pieces through the years but his favorites are the heirloom wedding gifts for his four children, as well as other creations for his wife, Elly. "I am very fortunate that all of my children and their families live near our home in Yorba Linda, CA."

"Being retired means I can continue enjoying life doing what I like. I always have several projects in motion at the same time, from household activities and studio projects, to teaching marquetry workshops and training caregivers in our local church. From time to time I give marquetry demonstrations and presentations on furniture making and design. In the studio there is a mental list of projects I eagerly anticipate beginning. I have just completed a marquetry rose table and chairs for my wife and me and two bedside tables, completing our bedroom set. A long-term project I've been working on is making a keepsake box for each of the ten grandchildren. The first four granddaughters' have flower fairies on the lid made with marquetry, and the three grandsons recently received their boxes: two puzzle boxes and a basketball box (see gallery). Three more to go! There is no end to my mental list!!

It is very satisfying for me to be creative and work with my hands making beautiful objects from wood. I am thankful for this life and for the God who made me.
---